About Us
Santa Rita Steel and Hardware Company was founded in 1978 in Tucson, AZ and is a family owned and operated business. We have been located at 804 S. Santa Rita Ave. since 1985. We deliver! We also ship via UPS or common carrier. Ask your salesperson for details.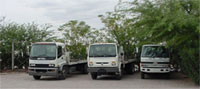 We are happy to take the time to work with you on designing your project. If you decide to pick up your merchandise, our hard working warehouse and yard crew will load your order.
Our Philosophy
We strive to provide the best quality products and the best customer service in the business. We value our customers and know that your time is money. Our operation is designed to provide a clean, efficient and safe atmosphere for both customers and employees. Every effort will be made to process your order quickly.
Our Goal

We aim to make Santa Rita Steel a pleasant place to work and therefore a good experience for our customers as well. We believe in buying American made products whenever possible. Santa Rita Steel also proudly does business with local vendors. We feel that supporting the American economy, especially in these tumultuous times, is of great importance. This policy also results in the consistency and excellent quality of the products we provide.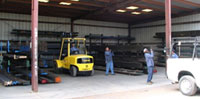 Commitment to Quality
We are committed to quality, consistency and the American job. We also pride ourselves on choosing vendors and products that give us the greenest decisions possible for our industry.
We purchase the largest percentage of our steel products from mills that are American owned and operated. These products conform to the standards set in place by the American Society for Testing and Materials (ASTM). By doing this we are able to support American jobs and we find that this also results in the best quality and consistency available.

Due to the rigid standards set in place by the Environmental Protection Agency, American steel mills produce their products with less impact to the global environment than do many foreign mills. Embedded energy is also less due to the shorter distances that need to be traveled to get the products to the marketplace. Most Santa Rita Steel scrap is donated.
---
Contact & Location
SOUTHERN ARIZONA
Santa Rita Steel and
Hardware Company, Inc.
804 South Santa Rita Avenue
Tucson, AZ 85719
---
Business Hours:
8:00 - 4:00 Monday - Friday
8:00 - 12:00 Saturday
SOUTHERN NEW MEXICO
Silver Steel, Inc.
86 ByPass Road
Silver City, NM 88061
---